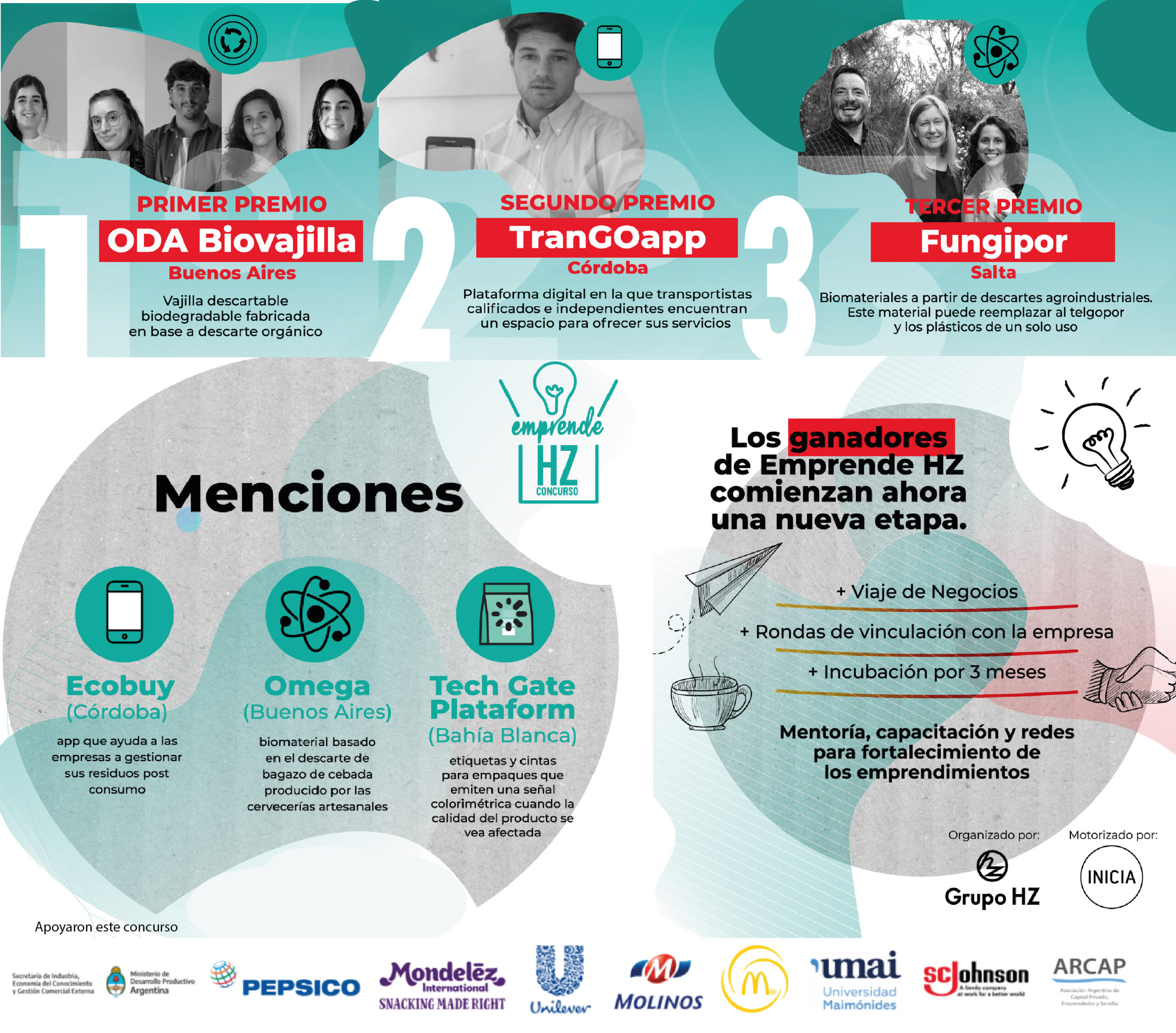 Meet the winners of the Emprende HZ Competition
On Friday, March 12th was the Emprende HZ award event. First place went to ODA Biovajilla (Buenos Aires), second place to TranGOapp (Córdoba), and third place to Fungipor (Salta). ODA Biovajilla is biodegradable disposable tableware made from organic industrial waste; TranGOapp is a digital platform where qualified and independent transporters find a space to offer their transport services, and Fungipor produces biomaterials from agro-industrial waste that are agglomerated under a biotechnological process with fungal mycelium that can replace styrofoam and single-use plastics.
The mentions went to Ecobuy (Córdoba), Omega (Buenos Aires), and Tech Gate Platform (Bahía Blanca). Ecobuy is an app that helps companies manage their post-consumer waste, Omega is a biomaterial based on the discarded barley bagasse produced by craft breweries, and Tech Gate Platform are labels and tapes for packaging that emit a colorimetric signal when the quality of the product is affected.
The winners will be incubated between March and May, and will have their networking rounds and will make networking trips to neighboring countries in the region.
The four pillars that were taken into account to choose the winners were: innovation in packaging, sustainability and circular economy, delivering value to the customer, and logistics and distribution. The Open Innovation process carried out by INICIA for the HZ Group had the purpose of energizing the creative processes of the organization, connecting the company with entrepreneurs who can contribute a new look. This tool not only promotes positive relationships for all sectors, but also helps to strengthen the local innovation and entrepreneurship ecosystem.