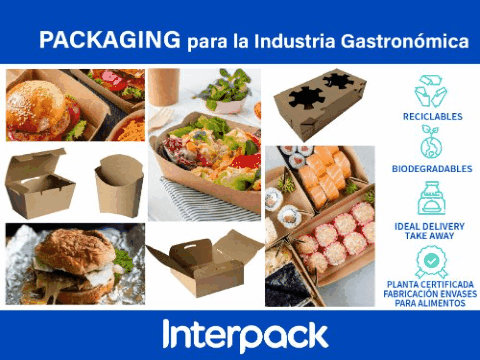 New value proposition for the Food Service market
Pablo Garcia - Regional Commercial Manager , tells us about the initiative of entering the Food Service market.
Market changes that create opportunities
The year 2020 was a difficult year for everyone and in particular for the gastronomy industry. Isolation directly affected the economy and all of us who are part of the industry's supply chain. We had to adapt to a new reality, where consumers changed their consumption habits, driving, among other things, the growth of delivery and take away.
On the other hand, certain global trends, which were already visible a few years ago, have taken hold. Consumers are increasingly aware of the environmental impact and the safety of food products became one of the main concerns. Today's market requires sustainable products and certified plants.
At Interpack, we understood that it was appropriate to offer products that meet these needs, developing sales channels other than the ones we traditionally supply. We have extensive experience providing packaging solutions and accompanying leading companies in the Fast Food market in their developments. Our plant is certified to produce packaging in direct contact with food through the Fssc 222000 certification, the world's leading certification scheme for food safety management systems.
New alternatives
In recent years, varnishes, inks and raw materials have been developed that are not only suitable for contact with food, but also have anti-fat and anti-moisture characteristics, thus avoiding the use of plastic materials. These raw materials allow us to develop disposable cardboard products that are recyclable and biodegradable.
Value Proposition
We currently offer a wide variety of gastronomic products and we project important launches in the coming months under the premises of innovation, sustainability and attractive prices that our production capacity provides us.
We believe that the food service market needs a renewal, with functional, biodegradable packaging that connects with the consumer. Our goal is to add value to the chain and make available products according to the times we live in. We are convinced that this will be the case because we have the capacity, experience and solidity to achieve it.